Marcel Breuer
Hungarian-American Designer, Sculptor, and Architect
Movements:
Bauhaus
,
Modern Architecture
Born: May 21, 1902 - Pecs, Hungary
Died: July 1, 1981 - New York City, USA

QUOTES
"Structure is not just a means to a solution. It is also a principle and a passion."
| | |
| --- | --- |
| | The History and Use-case of Modern Art |
"The artist works with the highest level of feeling. The technician works with the highest level of logic."
Synopsis
His friends and family affectionately called him Lajkó, but the rest of us know him as Marcel Breuer, the Hungarian-American designer whose career touched nearly every aspect of three-dimensional design, from tiny utensils to the biggest buildings. Breuer moved quickly at the
Bauhaus
from student to teacher and then ultimately the head of his own firm. Best known for his iconic chair designs, Breuer often worked in tandem with other designers, developing a thriving global practice that eventually cemented his reputation as one of the most important architects of the modern age. Always the innovator, Breuer was eager to both test the newest advances in technology and to break with conventional forms, often with startling results.
Key Ideas
Breuer's Wassily Chair (1927-28) became an instant classic of modern design, and even today it remains one of the most recognizable examples of Bauhaus design. For this chair, he used the newest innovations in bending tubular steel for the entirety of the structural frame, thereby demonstrating the possibilities of modern industry applied to everyday objects.
Breuer's early success in education often overshadows his brilliant career as an architect. Although Breuer assumed the role of primary designer for some of his most famous buildings, on several others he was happy to work alongside other giants in the profession, often generously sharing credit with his collaborators - a sharp contrast with many other high-profile architects in the postwar era.
A pioneer of the
International Style
in his use of steel and glass, Breuer's affinity for concrete later made him a key figure in the emergence of
Brutalism
, which has drawn criticism due to his designs' heavy-handed massiveness. However, Breuer counterbalanced this tendency in his small-scale houses that are notable for their sensitive handling of traditional materials, such as wood and brick.
Breuer is one of the most important and best-known figures associated with the Bauhaus, where he was first a student and later led the furniture design workshop. His reputation as a teacher was further cemented when he joined
Walter Gropius
at Harvard University, teaching some of the most successful architects of the postwar era, including
I. M. Pei
and
Philip Johnson
.
Most Important Art
Club chair (model B3) (1927-1928)

Made of leather and cantilevered steel, the Wassily chair has become one of the world's most enduring and iconic pieces of furniture. Breuer designed the chair at the age of the 23, while still an apprentice at the famed Bauhaus in Weimar, Germany. Inspired by the Constructivist principles of the De Stijl movement and the frame of a bicycle, the Wassily chair distills the type to its bare essentials, reflecting the Bauhaus' proclivity for functionality and simplicity. Breuer viewed the bicycle as an object that represented the paragon of design, owing in part to the fact that its form had remained largely unchanged since its inception. The tubular steel of the bicycle's handlebars also intrigued Breuer, as it was light, durable, and suitable for mass production (a manufacturer by the name Mannesman had recently perfected a type of seamless steel tubing that was capable of being bent without collapsing). Breuer once mused to a friend regarding the bicycle, "Did you ever see how they make those parts? How they bend those handlebars? You would be interested because they bend those steel tubes like macaroni." Breuer bent the steel components so that they were devoid of any weld points and could thus be chromed piecemeal and assembled. He named the chair after the painter Wassily Kandinsky, a professor at the Bauhaus, who was so enamored by the piece during a visit to Breuer's studio that Breuer fashioned a duplicate for Kandinsky's home. First mass-produced by Thonet, the license for manufacturing the chair was picked up after World War II by the Italian firm Gavina, which was in turn bought out by the American company Knoll in 1968. Knoll retains the design trademark and the chair remains in production today.

- 28 1/4 x 30 3/4 x 28" (71.8 x 78.1 x 71.1 cm)

More Art Works
Biography
Early Life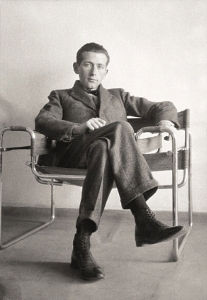 Marcel Breuer was born on May 21, 1902, in Pécs, Hungary, a small town bordering the Danube River. After graduating from high school at the Magyar Királyi Föreáliskola in Pecs, Breuer enrolled at the Academy of Fine Arts in Vienna to study painting, where he had been offered a scholarship. He almost immediately disliked the program, however, and within weeks of joining, he left to begin an apprenticeship with a Viennese architect. Breuer was eager to work with his hands and joined the cabinetmaking studio of the architect's brother. At age 18, in 1921, he moved to Weimar, Germany, to enroll at a new school called the Bauhaus, founded in 1919 with a mission to marry functional design with the principles of fine art. Its head, the architect Walter Gropius, immediately recognized Breuer's talent and promoted him within a year to the head of the carpentry shop. At the Bauhaus, Breuer produced the furniture for Gropius' Sommerfeld House in Berlin as well as his acclaimed series of "African" and "Slatted" chairs. But he also became acquainted with many of the most important artists of this era, who likewise worked and taught at the Bauhaus, including
Wassily Kandinsky
,
Laszlo Moholy-Nagy
,
Paul Klee
, and
Josef Albers
. Breuer later reflected that Klee served as one of his two greatest teachers in life, along with his high school geometry instructor.
In 1924, he finished his studies at the Bauhaus and briefly relocated to Paris before returning to the Bauhaus after it moved to Dessau in 1925. During the late 1920s and early 1930s, Breuer supported himself largely from fees garnered from his furniture designs, most notably the widely reproduced "Wassily" chair, as his architectural commissions were few and far between at this stage in his career. In 1926, Breuer married fellow Bauhaus graduate Marta Erps. While his parents were both Jewish, Breuer was forced to officially renounce his faith in order to marry Erps, due to the anti-Semitic hostilities in Germany at the time.
- - - - - - - - - - - - - - - - - - - - - - - - - - - - - - - - - - - - - - - - -